In 2009 the rumor about Dollar General coming to Oakwood surfaced at the Oakwood Village meeting.
Kickapoo Rail Trail bridge open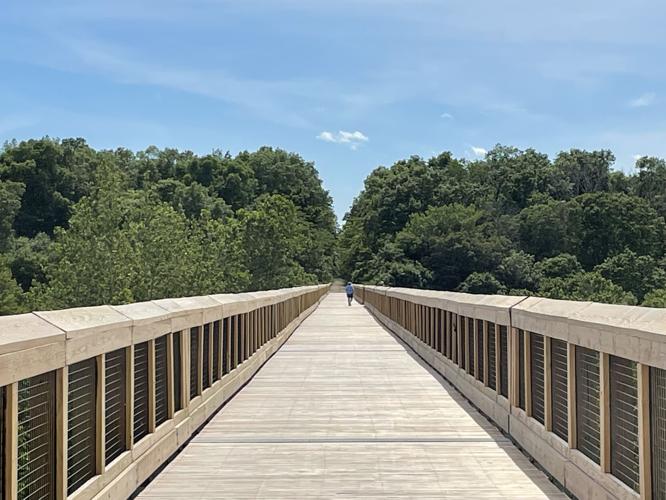 Walkers and bicyclists travel across the bridge that is now open as part of the Kickapoo Rail Trail in Vermilion County near the fairgrounds.
A 20-car parking lot with a vault toilet and other trailhead facilities will be located along Route 150, east of Grey's Siding Road. It's being constructed by Grunloh Construction for $364,000.
The Kickapoo Rail Trail is a 24.5-mile multi-purpose recreational trail extending from Urbana to Kickapoo State Park.
Halverson started removing the railroad tiles from the trestle bridge in 2019 and also removed some large trees that were in the path of the trail to prepare for the path. The bridge section is owned by the IDNR.
The rail corridor was purchased in the winter of 2013/2014 and work on the KRT began in the spring of 2016. The 6.7-mile Urbana to St. Joseph trail segment opened to the public in 2017. The Vermilion County portion is about 3.5 miles and potentially longer.
In 2022 a Bike Station was added to the Oakwood section by a Boy Scout for his Eagle Scout project.
Social Media and Oakwood
2003 Myspace was launched
youtube
Now Oakwood has a facebook presence with several Oakwood Discussion Groups
2022-2023 ATT Outage
Hurricane Katrina didn't affect Oakwood directly, but with the hurricane was a jump in gas prices. Hurricane Katrina also brought forward a focus on disaster preparedness.